How to Get the Most from Your First Visit to a Medical Marijuana Dispensary
Your first visit to a dispensary to purchase legal medical cannabis can be a confusing experience without proper preparation. You're going to an unfamiliar facility with a lot of strict rules and regulations, and you're going there to purchase a medicine that, unfortunately, has a lot of stigma and misinformation attached to it. With a little research, or this handy guide we put together for you, you can breeze through the process of selecting and purchasing your first batch of medicinal cannabis.
Buying Medical Cannabis
The first step for buying medical cannabis is to obtain a valid medical marijuana card. If you don't have a medical marijuana license for your state, talk to your doctor before heading to the dispensary. Conditions that commonly qualify patients for medical marijuana use include:
Cancer
Epilepsy
Glaucoma
Seizures
Crohn's Disease
PTSD and other severe anxiety disorders
Parkinson's Disease
Multiple Sclerosis
Though not an exhaustive list, these conditions are some of the most common. The guidelines for medical marijuana eligibility vary from state to state, so talk to your doctor if your issue isn't listed here.
Choosing a Dispensary
Your medical marijuana doctor may have given you suggestions for dispensaries or specific products or strains they think would help you. If not, you'll want to find dispensaries in your area favorably rated by medical customers. Once you've narrowed it down, don't be shy. Call around to ask about each place's medical marijuana products and get a feel for the staff. Ask plenty of questions and inquire if there's any paperwork that can be downloaded and filled out ahead of your trip to save time and avoid holding up the line when you get there.
First-time medical users will want to look for a dispensary with well-trained, knowledgeable patient care representatives who can help you choose the right products and routes of administration to achieve your therapeutic goals.
Depending on the state you're located in, medical patients are welcome to use recreational dispensaries to shop for recreational cannabis products just like anyone else, though medical programs in most states have higher purchase limits and significantly lower taxes and fees compared to recreational regulations.
Pre-Shopping for the Right Cannabis Product
After you've decided on your dispensary, browse their website to see what products and specials may be available to medical customers. You don't have to order ahead for pickup if you still need help choosing your medicine, although the dispensary staff would likely appreciate a pre-order if you're planning to stock up. After you become more comfortable with the dispensary and your options, ordering ahead can save you time.
If you're a total newcomer to cannabis, think about the effects you want to experience rather than the types of products you want to use. Are you using cannabis to reduce anxiety? Are you hoping to treat chronic pain? Or do you need something to alleviate muscle spasms? Answering these questions will help dispensary staff find the strain that will work best for you.
In addition to there being many different strains of cannabis, this medicine also comes in a variety of different products and administration methods.
Medical users new to cannabis who don't wish to smoke often enjoy:
Vape pens for discreet, less aromatic consumption
Soft chew edibles, hard candies, mints, and baked goods
Tinctures and oils that can be infused into food
Topical ointments for localized pain relief, such as lotions, creams, balms, and gels
Transdermal patches and gels for full-body effects without the "head high"
Modern dispensaries still allow you to grab some whole flower and rolling papers, too. However, this is often not the most convenient option for someone living with a debilitating medical condition or anyone who may need fast-acting, readily available medicine.
What to Bring to the Dispensary
Now that you know where you're going and have some idea of what you want, it's time to make sure you have everything you need for the trip. Medical marijuana states take their laws and regulations very seriously, so it's no surprise that any reputable dispensary does the same.
For your first dispensary visit, bring the following:
Medical Marijuana Card – This is an obvious one, but your whole trip is going to be a bust without it, so double- and then triple-check.
Medical and Licensing Agency Records – Keep a folder with backups of all your medical marijuana paperwork, both from your doctor and any government agencies, in case there is any uncertainty about your legal status when you get to the dispensary.
ID Card – Bring a valid, government-issued ID in case you need to prove who you are. Several states do have medical marijuana licenses with a photo of the cardholder and are therefore a form of government-issued photo ID themselves. Still, it's important to have your official ID on you any time you're buying or transporting cannabis for any reason.
Cash – The federal government still considers cannabis an illegal substance and can penalize any banks or credit companies who participate in the cannabis market. Because of this, legal cannabis remains mostly a cash-only business. If you placed a pre-order for curbside pickup, exact change is always appreciated. Depending on the dispensary's policies, you may want to bring some extra cash to tip the dispensary staff, especially if you're asking for their assistance in choosing your medicine.
Phone – Most states strictly limit the number of simultaneous patrons who can shop in a dispensary at once, so be prepared to wait in the lobby a while if it's busy. If this is the case, you can use your phone to continue researching the dispensary's menu, product line, and any specials they may offer.
Your First Dispensary Visit
Expect to spend some time at the dispensary on your first visit. The staff will have to check you in, add you to their system, and review your license to make sure you're legal before allowing you to browse. Depending on your state's particular laws, there may be other paperwork requirements or additional procedures to complete at the dispensary. Some states may require that you register a particular dispensary as your provider or caretaker and then shop at that dispensary. Contact your state licensing authority or the dispensary themselves if you're unsure.
Don't sweat memorizing the entire letter of the law. Your dispensary staff should be knowledgeable enough to walk you through any processes that need to be completed on the premises before making your purchase. You'll also want to give yourself time to get acquainted with the dispensary layout, procedures, and products. If you're a complete cannabis novice, just let your dispensary's staff know so they can show you around and explain the different types of products that may be of interest to medical customers.
New To Cannabis? Don't Get Overwhelmed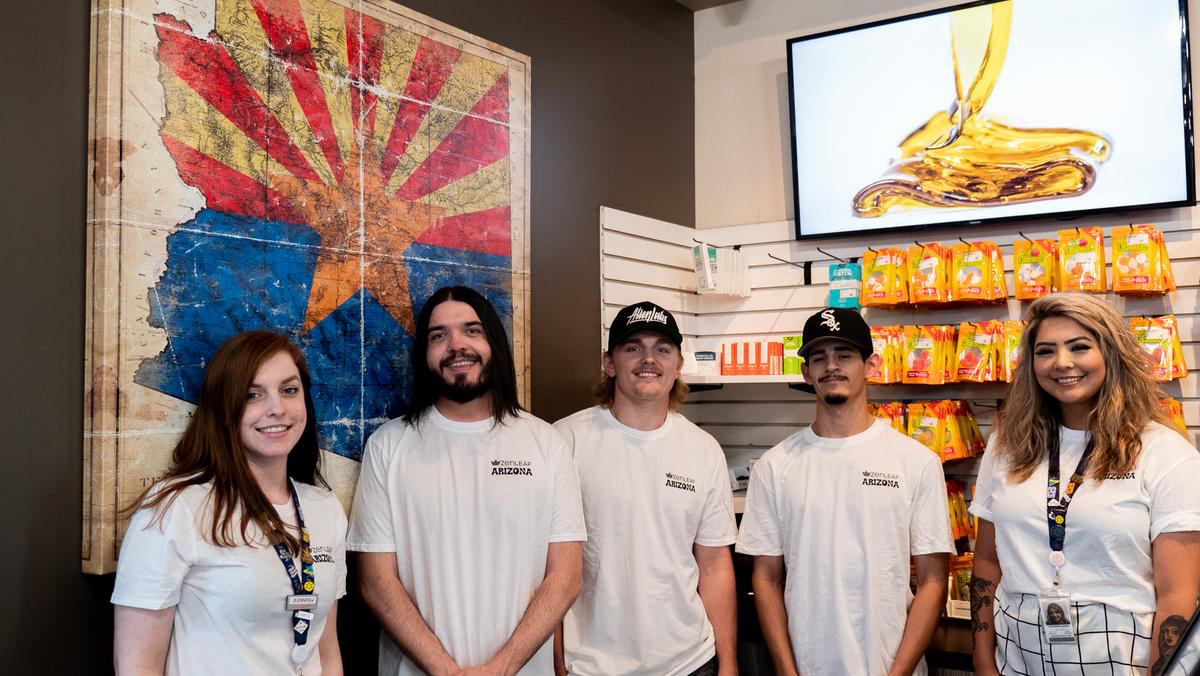 Zen Leaf Dispensaries are staffed by compassionate, well-trained Cannabis Advisors with experience helping medical users choose strains and products to meet their needs. Your first visit will be mainly focused on discussing how you plan to use cannabis and what products might meet your therapeutic goals. With all the different administration methods, product lines, strains, extracts, terpenes, potencies, it can easily get overwhelming if you lack experience with cannabis. Don't be afraid to ask for help! That's what Cannabis Advisors are there for, and Zen Leaf Customer Care Representatives, too, are highly knowledgeable and genuinely passionate about helping clients improve their lives with medical cannabis.
Remember that every state has unique laws and regulations for medical marijuana programs. If your state also allows recreational cannabis, there are two separate sets of rules to follow, somake sure you're looking at the right ones as a medical marijuana cardholder. Questions about purchase limits, transportation laws, storage requirements, or anything else related to your local laws can also be directed to—you guessed it—your dispensary staff.
Watch Out for Red Flags
If you ever find yourself in a medical cannabis dispensary where the staff seems unfamiliar with state cannabis laws or the differences between medical and recreational limits, leave. That's a major red flag that they aren't a reputable company. You are under absolutely no obligation to purchase from a dispensary you're uncomfortable at just because they've already added you to their system. Most states allow you to change providers or visit multiple providers with relative ease.
After Your Dispensary Visit
Now that you've purchased an adequate supply of medicine, it's time to go home and use it.
Getting Home
You can't just leave the dispensary and immediately begin using cannabis products outside the front door, or you risk criminal liability and/or losing your medical marijuana license. Public consumption of cannabis remains illegal in most circumstances, with some limited exceptions for medical users in certain states. Medical marijuana cardholders in Arizona, for example, can consume edibles in public so long as they store and consume their medicine responsibly. When in doubt, wait until you're home.
The laws regarding the transportation of cannabis will also vary from state to state. In general, you'll want to keep it out of easy reach of the driver, away from any minors, and in a secure location. Locking it in the trunk is usually a good option. Never use medicinal cannabis while operating a vehicle. A medical marijuana license will not prevent you from being charged with a DUI if you are pulled over while notably under the influence of cannabis.
Consuming Your Medical Cannabis
When you're safely back at home, it's time to use your medication responsibly.
Remove your product from the bag and check the receipt. Keep your medicine sealed until you reach your private residence, where it can be legally consumed. Ideally, you should have watched them pack your medicine, so you already know exactly what's in the bag, but it's a good practice to check your products against the receipt. Then store this receipt with the rest of your medical marijuana paperwork, so you have a record of the purchase.
Find a safe place to store your medicine. Storing medical cannabis safely requires the same thought and care as storing any other psychoactive medication. A lockbox or safe is a great investment for anyone purchasing cannabis regularly. Store it in a drawer or container if you need to have your medicine quickly available or struggle with locks due to a medical condition. Don't leave your medication anywhere it could get stolen or accessed and accidentally consumed by minors or pets.
Medicate responsibly. If you're using cannabis for the first time, don't drive anywhere or fulfill any important obligations. Start with a small dose to see how it affects you. As you explore new strains, you'll notice that different combinations of THC, CBD, and terpenes can create markedly different effects. Some strains will perk you up; others will mellow you out, and well-balanced ones can give you a bit of both.
Your dispensary staff likely recommended a strain with a lower THC content to ease you into the effects of the alternative medicine. They should have told you what to expect in terms of dosing and potency during your shopping trip. Give yourself a minimum of one hour after your first dose before trying a second one.
If you feel anxious, paranoid, or have any adverse side effects, discontinue consumption immediately. Then, be sure to share your experience with your cannabis doctor and your Cannabis Advisor. You have a plethora of options for strains, dosages, and consumption methods, so if the first choice doesn't work out as planned, don't give up yet. Your doctor or Cannabis Advisor can give you advice on adjusting these factors for a less intense experience.
Find Your Zen
Zen Leaf currently operates state-of-the-art dispensaries in eleven states for licensed medical marijuana cardholders (and recreational users, where legal) looking for a reliable, high-quality cannabis provider.
We care about carrying quality products and offering superior customer service. It's important to us that each and every Zen experience is helpful and valuable to the individual seeking care. If you have any questions about cannabis in your state or about Zen Leaf specifically, please contact our team. We're here to support you on your healing journey.
Digital Content Manager for MÜV Florida and Zen Leaf Dispensaries. A cannabis connoisseur with a passion for explaining the miraculous possibility of the plant, Swan began her journey with cannabis as a recreational user and quickly realized its positive impact on her depression and severe anxiety. She joined the cannabis industry as Receptionist and MedTender and witnessed first-hand the immense potential of the plant for a wide variety of ailments, deepening her passion for alternative medicine. Swan is dedicated to self-education on the plant and sharing its potential with all. She holds a Journalism degree from the University of Iowa.